(a Jewish American Princess in Paris)


Visit my new page on Judaism!

Whether you have a Jewish mother or not, this page is a great way to link up to awesome (I'm talking fire and brimstone) sites on the net, guilt free (unless you login on the Holy Sabbath). It seems the people of the book have adapted easily to the world of the virtual--with the same flexibility that have kept them around for the last couple of millennia.
| | |
| --- | --- |
| Virtual Jerusalem is one of my favorite sites. It's a great place to get in touch with every aspect of religious life in Israel--from the latest kosher recipes, to placing a kvitel (a written prayer) between the stones of the Western Wall, to useful software in Hebrew and in English. Virtual Jerusalem also has excellent links to other interesting sites arranged in a user-friendly way. | |
The

Technion, the renown technological institute, has a site that gives you a (almost) complete guide to the WWW in Israel. For leading edge technological stuff, check out the sites at the Technion itself as well as the Weizmann Institute.

 

 

 

 

 

 

 

 

If you want to literally (yet virtually) experience the verses of the Ancient Testament, try Neot-Kedumim, a place where "like a rose among thistles" and "a land of milk and honey" come alive.

After browsing through Israel on the net, you might want to visit the Holy Land in person. You can plan every aspect of your stay with the

Israelvisit site.

Back in my hometown of New York City, an informative site awaits you at the

Jewish Theological Seminary. Their library boasts one of the most extensive collection of books on Judaism in the world.
| | | |
| --- | --- | --- |
| For a number of years I have been an interviewer for Survivors of the Shoah (Holocaust), founded and chaired by Steven Spielberg. If you want to find out more, try their sobering site. | | |
Finally, the

Jewish Internet Consortium is one the earliest internet sites. It has lots of info and FAQ's regarding Jewish culture, law, and religion.

Monotheistic or otherwise--enjoy!

As a treat I include another picture from my son's Bar Mitzvah.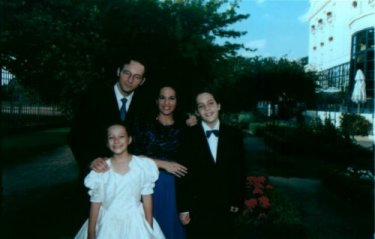 Oy, just look at those lovely children, thank God!
Please e-mail your comments and suggestions to chavie@noos.fr and don't forget to check out my tasty food for thought site!
(This was one of my earliest web pages--1996)